Tips to Help You Prevent Water Damage
Leaking pipes, clogged toilets, and bathroom floods are typical plumbing problems that happen in residential buildings. However, these issues shouldn't be taken lightly because they can cause serious water damage if they aren't addressed properly. Dealing with water damage is an overwhelming task that can get extremely costly. For this reason, it's in your best interest to do whatever you can to prevent water damage.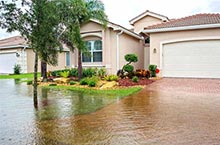 Here are a few tips you can follow to get you started:
Address Plumbing Issues
Most water-related catastrophes are caused by a simple leak or clogged toilet. As such, you should make it a habit to repair plumbing problems, no matter how small. If you don't have the tools or the experience to handle the repairs, you can always contact your local plumber for help.
Make Sure Your Gutter Stays Clean
Your roof can also be the source of future water damage. The gutter, in particular, has a tendency to clog and cause rainwater to puddle on your roof. Without an efficient gutter system, the stagnating water can leak into your attic, resulting in rot or mold damage. That's why it's important to have your gutter professionally cleaned at least twice a year.
Check Your Appliances Regularly
Appliances like the dishwasher and washing machine can spring a leak without any warning. Depending on how bad the damage is, the water coming from broken or leaky appliances can flood your home. In this regard, you should make it a point to have your appliances regularly checked. When you let the experts inspect these systems, you have the opportunity to fix the early signs of wear and tear. They can even upgrade your appliances or recommend other solutions.
If you follow these tips, you will have a lower risk of experiencing water damage. However, if the worst should happen, contact All-Star Disaster Restoration immediately. We are your reliable restoration company that offers effective and quick water damage restoration services in Tulsa, Oklahoma.
We have the experience, skill, and the necessary equipment to deal with any kind of water-related disaster. We're also highly trained to handle the job with utmost care and urgency. Plus, we can assist you in filing an insurance claim and work directly with your insurance agency and adjuster to help you recover faster.
When you need our help, contact us at 918-347-4640. Our emergency services are available 24/7.