Signs That You Have Water Damage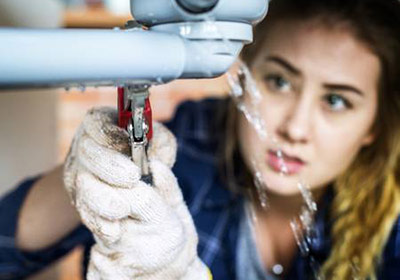 Storms, floods, burst pipes, and backed-up sewer systems all have one thing in common. Each can cause water damage to your home.
When a storm causes your roof to leak or when a flood inundates your home, you can end up with significant problems. Some water-damage signs are easy to detect while others are less obvious.
To help you determine if your home is suffering from water damage, here are some signs to look for:
Warped floors and walls – When your floor has absorbed a lot of water, there is a good chance it will bulge and warp. The same goes for water-damaged walls. Floors exhibit more obvious warping because you can feel the uneven surface beneath your feet.
Bubbling and peeling paint or wallpaper – When your wallpaper is coming off the wall and your paint starts to show signs of bubbling, water damage probably is the culprit.
Discoloration – If you see stains on your floors, walls, and ceilings, these suggest a leaking pipe or even a leaking roof. These stains usually look like streaks and may have dark outlines that are lighter in the middle.
Moldy smell – Molds thrive in moist environments but are not always easy to detect. Signs that you have mold growth are spots or stains on your walls in black, green, or yellow. The musty smell is also very distinct.
Puddles of water – When you notice small pools of water in any part of your home, these are indicators of water damage. They can be due to a leaking pipe, a hole in your roof, a leaking water heater, or even a washing machine line break.
What to Do When you Discover Water Damage
When you confirm that you have water damage, the first thing you need to do is turn off the water supply to the damaged area. If it is a leaking pipe or an appliance leak, turning off the water main or the appliance itself can help. The next thing you need to do is to contact All-Star Disaster Restoration to handle the damage. In the Greater Tulsa area, we are your prove source for handling any type of water damage.
In addition to water damage, we can also take care of fire damage restoration, storm damage restoration, and mold remediation. We can also help you with your insurance claims for these restoration problems. To get the help that you need, all you have to do is to contact us at 918-347-4640 and we can have someone over to assess your problem and to give you a free estimate.