The Consequences of Neglected Water Damage
It's difficult to tell the extent of water damage, especially when the warning signs aren't a cause for alarm. In most cases, water-related catastrophes begin as simple leaks. However, the main problem may be a burst pipe or damaged water valve.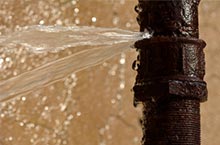 For this reason, you shouldn't neglect the early indicators of water damage. If you ignore the underlying issues, you'll have a higher risk of experiencing the following consequences:
Indoor Flooding & High Levels of Moisture
The moment a pipe bursts or a toilet overflows, you'll only have a short amount of time before the water floods your home. Even if you've successfully shut off your main water supply, removing the floodwater will be challenging if you don't have the right equipment. Drying the affected area will also be an arduous task. Regardless, leaving them damp is not an option because that can lead to all kinds of hazardous repercussions.
Extensive Mold Damage
Mold is a common result from high levels of moisture in your home. Mold develops quietly over time, causing harm to your property and indoor environment. It can also impact your health, triggering issues that range from respiratory ailments to certain types of cancer. You can't rely on conventional cleaning to eliminate mold because it can spread rapidly if you use the wrong technique. Your best solution is to have it professionally remediated.
Increased Exposure to Waterborne Viruses and Bacteria
Any accumulation of water, whether clear or otherwise, can contain dangerous pathogens that will contaminate your surfaces and belongings. Waterborne viruses, bacteria, and germs can easily invade your home. This is a huge problem for individuals who have allergies, asthma, and weak immune systems. Even the healthiest resident in your home can be impacted by dangerous waterborne pathogens.
To avoid encountering these consequences, it is wise to have your plumbing system maintained regularly. You should also update your water-efficient appliances and upgrade your bathroom hardware.
If a water disaster occurs at your home, contact All-Star Restoration, Inc. for help. Our company is your dependable restoration expert in Tulsa, Oklahoma. We offer many water damage restoration solutions that will return your property to its original condition. These include:
All of our emergency services are available 24/7 so call us at 918-347-4640 today and we'll dispatch our restoration crew to your location ASAP.